Nutritional Counseling in Scottsdale
Giving Your Body What It Needs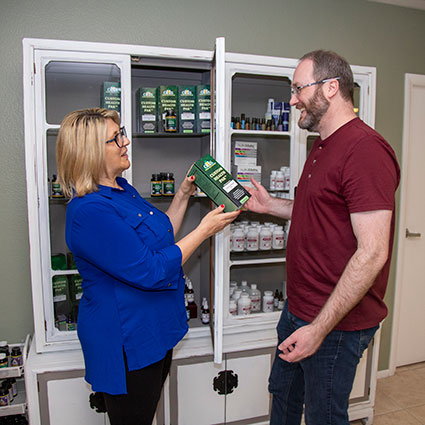 In order to function optimally, your body needs certain vitamins and minerals, and what's "enough" of a particular nutrient for one person isn't necessarily adequate for someone else. At Abundant Health Arizona, nutrition plays an integral role in our approach to helping your body heal. If you don't have sufficient nutrient support, then no matter how hard you try, your body will be unable to achieve your full health potential.
Many issues that present as chiropractic issues are caused by nutrition deficiency. Our goal is to identify those deficiencies and correct them, giving your body everything it needs to heal. Vitamins and minerals are necessary for building tissues and neurotransmitters, and are the building blocks of all your cells, so having those nutrients available allows your body to heal faster and more completely.
NEW PATIENTS

Our Approach
Dr. Carla has over twenty years' experience in nutrition counseling. She is certified in the Nutri-Spec protocol.
We begin with a simple in-office test to identify your nutrition deficiencies. This metabolic nutrition analysis allows us to customize recommendations specifically for your needs. Many people take supplements because they hear the advertising and think they must need a certain amount of this vitamin or that mineral, but if you're taking vitamins you don't need, you're just wasting money. It's important to take the supplements that your body needs, in the quantity it needs. Quality is also important, and many grocery-store supplements are loaded with fillers.
Creating an individualized nutrition plan for your unique needs will help support your body in your overall healing process. We offer high-quality supplements from Nutri-Spec and DesBio. Dr. Carla will monitor your progress at every visit.
EXPLORE SUPPLEMENTS »

Learn More Today
Contact us today to learn more about how the right supplements for you can make a dramatic difference in your health and healing.

Nutritional Counseling Scottsdale AZ | (480) 771-1700