Chiropractic Care FAQ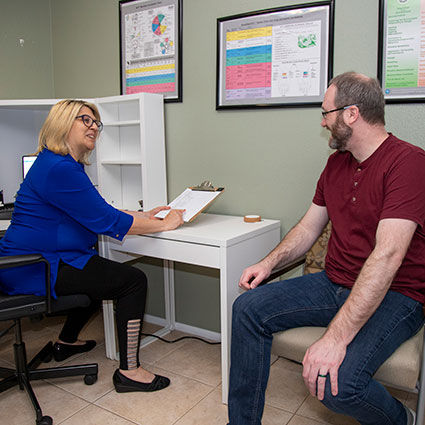 If you've never been to a chiropractor, there's a good chance you have some questions about this safe and effective form of natural care. Here are some of the most common questions we get asked here at Abundant Health Arizona and Dr. Carla's responses.
Once I go to a chiropractor, will I always have to go?
You don't have to go, but you'll want to! Many people find they use chiropractic care ongoingly to maintain their health through all the various stresses they encounter. Initially, your chiropractor will prescribe a course of treatment to address the primary concerns you have. After the initial phase of care, the chiropractor will suggest a maintenance frequency.
Does a chiropractic adjustment hurt?
The area affected by a chiropractic adjustment may feel painful or sore in the first 24-48 hours. This is because your body may work on damaged tissue, which requires an inflammatory response. But, in general, a chiropractic adjustment is gentle and usually produces a feeling of relief as tense muscles relax.
Can chiropractic cure everything?
Chiropractic care is not a cure or treatment for any disease. Chiropractic care is a complementary approach and empowers your body's natural healing abilities. This can support healing from any type of illness, and can normally be used with other healing approaches, such as medicine, acupuncture and physical therapy.
Why would I have my newborn or young child adjusted?
Babies and children are subjected to many of the same environmental stressors as adults. In addition, children can adapt to trauma caused by the birth process. Chiropractic care for infants and children has been studied and shown to be helpful to support normal growth and development.
Can chiropractic help with colic and how?
Chiropractic care helps an infant adapt to the stressors of being outside the womb. By bringing ease to the nervous system, digestion improves, and parents notice their babies often have a resolution of upsets like colic, torticollis and sleeping issues.
Does insurance cover chiropractic visits?
Many insurance plans cover chiropractic care, but the conditions for coverage can vary widely. As an out of network provider, we can review your insurance coverage and provide a superbill for you to submit to your insurance company.
Chiropractic care plans vary based on the chronicity of your complaint and your health goals. During your visit, the doctor will review your concerns and exam findings to create a plan that will support your healing. The cost will depend on the doctor's recommendations for care.
Do I need a referral from my physician?
You do not need a referral from a physician to visit with a chiropractor. If your physician wants to be informed about your care, we can provide a case narrative for you to share with them.
Do you work with medical doctors?
Yes. We are happy to work with your medical doctor to ensure you get appropriate care for all your health needs.
Will I get adjusted on my first visit?
Usually your first adjustment will be scheduled after your initial consultation and exam. This is to ensure the doctor has time to review your case and determine the best course of care for you. The chiropractor may adjust your first visit to assess your response and inform the recommendations for care. Sometimes, more studies will be needed before we can perform an adjustment. Your care plan is unique to you, and we are always working to provide the most effective care.
Will you suggest exercises or other things I can do?
Yes, we will recommend exercises and supportive therapies as needed.
Can someone who has had back surgery see a chiropractor?
The doctor will review your case to ensure that gentle chiropractic adjustments are safe and appropriate if you've had back surgery. Chiropractic care is sometimes contraindicated. In other cases, areas of your spine that have not had surgical intervention can be safely adjusted. With gentle chiropractic techniques, it is possible to safely adjust areas of your spine that have had surgical intervention.
Have a Question?
If you have other questions about chiropractic care that weren't addressed here, please call our practice. We look forward to caring for you and your family!
CONTACT US »

Frequently Asked Questions | (480) 771-1700